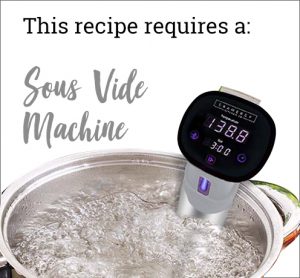 Whipping up your very own tomato sauce is so very easy with the sous vide, so you can enjoy your summer garden for quick evening meals all winter long.
Servings: 4 – 6
Prep time: 10 minutes
Cook time: 55 minutes
Ingredients
2 tablespoons olive oil
1/2 cup onion, chopped
2 garlic cloves, minced
3 sprigs fresh oregano, stemmed
2 pounds ripe tomatoes
6 large basil leaves, chopped
1 whole green pepper, seeded and cut into four large pieces
Directions
Heat olive oil to medium in a sauté pan.
Add onion, garlic, and oregano, and cook until fragrant, about 5 to 7 minutes, and set aside to cool.
Preheat sous vide water bath to 120°F.
Add olive oil mix, tomatoes, and remaining ingredients to a resealable plastic bag, and seal airtight.
Cook for 50 minutes.
Remove bag from the water, open and let cool for a few minutes.
Remove peppers and discard.
Remove and peel the tomatoes.
Add peeled tomatoes and the remaining contents of the bag to a food processor or blender and process until desired texture is achieved.
Serve with your favorite dishes.
---
Nutritional Info: Calories: 84 Sodium:  9 mg, Dietary Fiber: 3.4g, Fat: 5.3g, Carbs: 9.5g, Protein: 2g
---