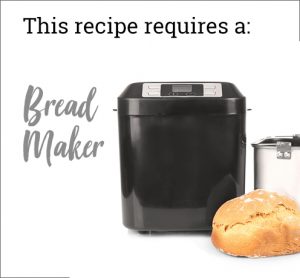 Seasoned breadsticks are just the thing to warm you up on cool days. Serve these yummy breadsticks with your favorite soups and salads, or with olive oil and balsamic vinegar for dipping.
Servings: 12
Prep time: 15 minutes
Cook time: 2 hours
Ingredients:
1-1/3 cups warm water
1 tablespoon butter
1-1/2 tablespoons sugar
1-1/2 teaspoons salt
4 cups bread flour
2 teaspoons yeast
For the topping:
1 tablespoon garlic powder
1 tablespoon dried parsley
1 teaspoon dried oregano
1/4 cup of parmesan cheese
For the glaze:
1 egg yolk
1 tablespoon of water
Directions:
Place the first six ingredients in the bread maker pan in the order indicated.
Select the Dough cycle and press Start.
Turn the dough out onto a lightly floured surface and roll the dough out flat to about 1/4 inch thick.
Cover with plastic wrap and let rise for 20 to 30 minutes.
Sprinkle the herb toppings onto the dough evenly distributed across the surface.
Preheat an oven to 400°F.
Cut the dough into long strips about one inch wide; twist each end in opposite directions to twist the toppings into the bread stick.
Place the twisted breadsticks onto a lightly greased baking sheet.
Mix the egg yolk and the water and lightly baste each breadstick.
Bake for 8 to 10 minutes or until golden brown.
Remove from oven and serve warm.
---
Nutritional Info: Calories: 182, Sodium: 328 mg, Dietary Fiber: 1.4 g, Fat: 2.3 g, Carbs: 34.3 g, Protein: 5.6 g.
---