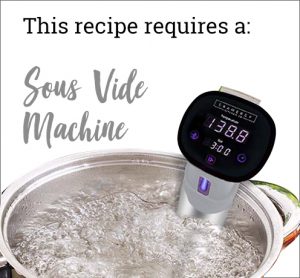 Cranberry sauce is the perfect complement to poultry like turkey or Cornish hens served with stuffing and mashed potatoes.
Servings: 6 – 8
Prep time: 3 minutes
Cook time: 2 hours
Ingredients
1 package frozen cranberries (or fresh)
1-2 tablespoons raw honey
3 drops cinnamon oil
1 drop clove oil
1 drop orange oil
½ tablespoon cinnamon
½ teaspoon nutmeg
1 cinnamon stick
Directions
Preheat water bath to 185℉.
Place cranberries in a sealed bag along with remaining ingredients and cook for about 2 hours.
Remove and transfer to an ice bath for 5 – 10 minutes.
Serve with your favorite meals; alternatively, you can refrigerate for up to 14 days.
---
Nutritional Info: Calories: 98 Sodium: 0mg, Dietary Fiber: 2.8g, Fat: 5.4g, Carbs: 9g, Protein: 0g
---