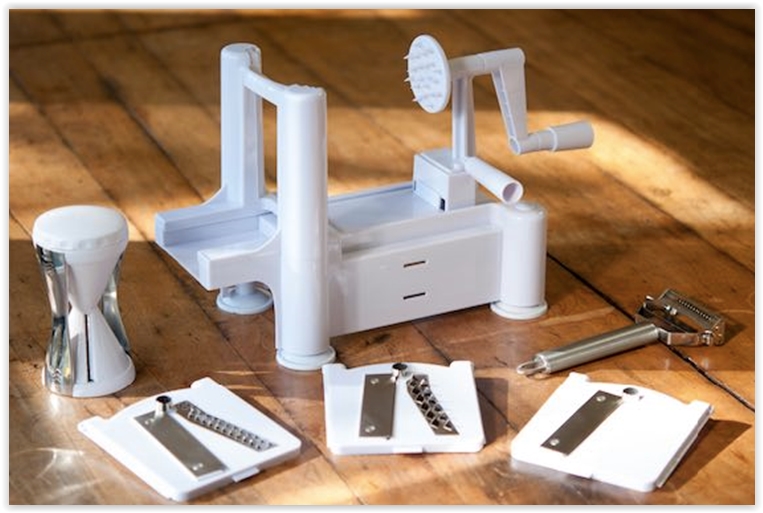 The number one easiest way to clean each of these wonderful spiralizing tools is to wash them under running water immediately after use. If you wash immediately after using, then any vegetable matter will easily slough off of the tool and its blades. Warm soapy water is more effective as it softens the vegetable matter even more. Simply run water over the blades, and use your kitchen brush if needed, then put the tool on your drying rack. The entire process takes 30 seconds.
If you don't clean your spiralizer right away, then you'll have some extra work to do. The entire Veggetti is dishwasher-proof, as are the blades on the Paderno, so for the most part, all you need to do is throw the appliance in the dishwasher and hit "go." But there are times when particles of vegetable matter will cling to the blades. When that happens, there are two easy ways to clean out the debris without putting your fingers at risk.
One method is to use hot water with the sink power sprayer to force the particles out. The second is to use a clean toothbrush to gently scrub the sharp surfaces. (Buy them by the handful at the dollar store and keep a couple in your utensil drawer. You'll be amazed at how useful they'll be.)
For Julienne slicers of any type, hand-washing is recommended. Use the power-rinse at your sink and run hot water through the device to remove any food debris. Wash immediately after use if cutting zucchini or beets, which can leave stains.
*****
This post is an excerpt from "The Complete Vegetable Spiralizer Cookbook" by J.S. Amie. The book explains how to spiralize like a pro, and provides more delicious recipes than you can shake a stick at! Want a copy for yourself? Click the image below to pick it up on Amazon!