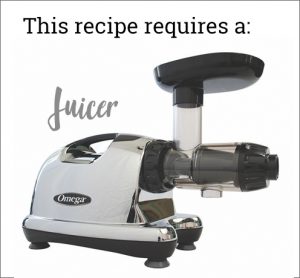 This juice contains more than 100% of your daily dose of immune boosting vitamins A & C. Vitamin C helps to boost the immune system by killing free radicals. Vitamin A is an anti-infective, which means it fights invading organisms and infections.
Servings: 2
Prep Time: 10 Minutes
Ingredients:
1 lemon
1-inch slice ginger
3 medium carrots
4 stalks of celery
4 kiwi fruit
A handful of parsley
Directions:
Peel the lemon and kiwi.
Juice the kiwi, lemon, and parsley on low speed, and the ginger, carrots, and celery on high speed.
---
Nutritional Info: Calories: 186, Sodium: 139 mg, Dietary Fiber: 11.0 g, Total Fat: 1.8 g, Total Carbs: 42.4 g, Protein: 5.6 g.
---