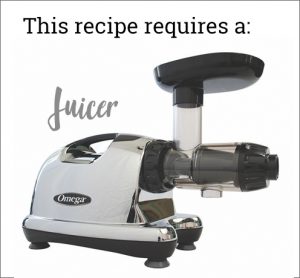 Papaya has long been considered the healing fruit. It is full of antioxidants and is great for intestinal and cardiovascular healing. Papaya is combined with hydrating cucumber and crisp apple for a unique and savory blend. This drink is flavored with all natural honey, fresh mint, and cinnamon. This vitamin-rich and mineral-packed juice can also be added to your cleansing regimen.
Servings: 1
Prep Time: 6 minutes
Ingredients:
1 green (unripe) papaya
1 green apple
1 cucumber
1 cup mint
1 teaspoon raw honey
1 teaspoon ground cinnamon
Directions:
Peel the green (unripe) papaya, cut in half and remove the seeds. Place the papaya and the cucumber into the chute together, directly followed by the green apple.
Use the food pusher to press them into the juicer with juicer set to high-speed.
Change the setting to low-speed and process the mint. Add the raw honey and ground cinnamon to the juice jug after juice is prepared.
Stir and serve. This juice can be stored in an airtight container and kept refrigerated for 12 hours. Stir juice before serving each time.
---
Nutritional Info: Calories: 342, Sodium: 62 mg, Dietary Fiber: 18.8 g, Total Fat: 2.2 g, Total Carbs: 85.4 g, Protein: 7.1 g.
---