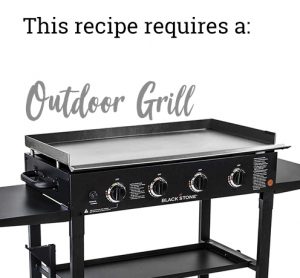 Basil infused broccoli is the perfect way to elevate grilled salmon. Healthy and delicious, this recipe is also easy to make on those busy weeknights when you still want a decadent tasting dinner.
Servings: 2
Prep time: 10 minutes
Cook time: 12 minutes
Ingredients:
2 (6-ounce) salmon fillets, skin removed
2 tablespoons butter, unsalted
2 basil leaves, minced
1 garlic clove, minced
6 ounces broccolini
2 teaspoons olive oil
Sea salt, to taste
Directions:
Blend butter, basil, and garlic together until well-incorporated. Form into a ball and place in refrigerator until ready to serve.
Preheat griddle to medium-high heat.
Season both sides of the salmon fillets with salt and set aside.
Add broccolini, a pinch of salt, and olive oil to a bowl, toss to coat, and set aside.
Brush griddle with olive oil, and grill salmon for 6 minutes per side for medium.
Add the broccolini to the grill, turning occasionally, until slightly charred and golden; about 10-12 minutes.
Top each salmon fillet with a slice of basil butter and serve with a side of broccolini.
---
Nutritional Info: Calories: 398, Sodium: 303 mg, Dietary Fiber: 2.2g, Fat: 26.7g, Carbs: 6.2g Protein: 35.6g
---