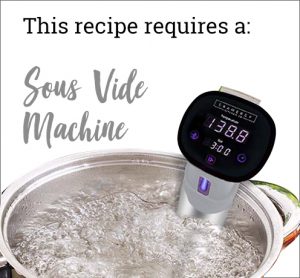 A dinner staple in most homes, this sous vide recipe helps you whip up something hearty any night of the week.
Servings: 4
Prep time: 15 minutes
Cook time: 2 hours 10 minutes
Ingredients
1 lb. ground pork
1 lb. ground beef
1 egg
1/2 cup Italian bread crumbs
1 medium yellow onion, minced fine
2 cloves of garlic, minced fine
2 sprigs of fresh oregano, chopped fine
1 can stewed tomatoes, mashed well
Olive oil
Sea salt
Black pepper
1 package spaghetti pasta
Shaved parmesan, for garnish
Directions
Preheat a sous vide bath to 140°F.
Combine pork, beef, egg, bread crumbs, half the onion, half the garlic, and salt and pepper to taste, in a mixing bowl until well-combined.
Form 8 meatballs, 2 inches wide, with your hands or a small ice cream scoop.
Heat a large saucepan over high heat and add a tablespoon of olive oil.
Sear meatballs on all sides; set aside.
Drain the pan and add the remaining onion.
Stir in remaining garlic, the tomatoes and juice from the can.
Salt to taste.
Mix well and simmer for 5 minutes.
Turn off heat and let cool 5 minutes.
Combine meatballs and sauce in a large vacuum bag and seal.
Sous vide for 2 hours.
Prepare spaghetti according to package instructions.
Top with meatballs and sauce, and garnish with parmesan to serve..
---
Nutritional Info: Calories: 530 Sodium: 636 mg, Dietary Fiber: 3.2g, Fat: 17.9g, Carbs: 19.8g, Protein: 69.4g
---