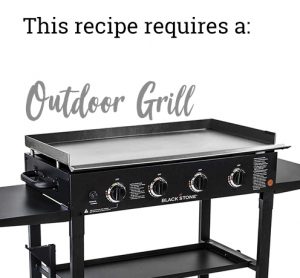 Craving restaurant style Buffalo Wings?! You can easily whip them up right at home with this quick and easy recipe. Serve them with your favorite dips, carrots and celery for a fun treat.
Servings: 6 – 8
Prep time: 10 minutes
Cook time: 20 minutes
Ingredients:
1 tablespoon sea salt
1 teaspoon ground black pepper
1 teaspoon garlic powder
3 lbs. chicken wings
6 tablespoons unsalted butter
1/3 cup buffalo sauce, like Moore's
1 tablespoon apple cider vinegar
1 tablespoon honey
Directions:
Combine salt, pepper and garlic powder in a large mixing bowl.
Toss the wings with the seasoning mixture to coat.
Preheat griddle to medium heat.
Place the wings on the grill; make sure they are touching so the meat stays moist on the bone while grilling.
Flip wings every 5 minutes, for a total of 20 minutes of cooking.
Heat the butter, buffalo sauce, vinegar and honey in a saucepan over low heat; whisk to combine well.
Add wings to a large mixing bowl, toss the wings with the sauce to coat.
Turn griddle up to medium high and place wings back on the grill until the skins crisp; about 1 to 2 minutes per side.
Add wings back into the bowl with the sauce and toss to serve.
---
Nutritional Info: Calories:410, Sodium: 950 mg, Dietary Fiber: 0.2 g, Fat: 21.3g, Carbs: 2.7g, Protein: 49.4g.
---