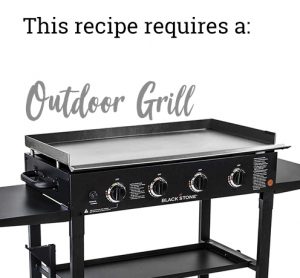 BBQ Chicken has never tasted so good! We love this classic BBQ favorite for a taste of summer all year around. Simply serve with your favorite side dishes for a full family style meal.
Servings: 4-6
Prep time: 5 minutes
Cook time: 1 hour 45 minutes
Ingredients:
4 pounds of your favorite chicken, including legs, thighs, wings, and breasts, skin-on
Salt
Olive oil
1 cup barbecue sauce, like Hickory Mesquite or homemade
Directions:
Rub the chicken with olive oil and salt.
Preheat the griddle to high heat.
Sear chicken skin side down on the grill for 5-10 minutes.
Turn the griddle down to medium low heat, tent with foil and cook for 30 minutes.
Turn chicken and baste with barbecue sauce.
Cover the chicken again and allow to cook for another 20 minutes.
Baste, cover and cook again for 30 minutes; repeat basting and turning during this time.
The chicken is done when the internal temperature of the chicken pieces are 165°F and juices run clear.
Baste with more barbecue sauce to serve!
---
Nutritional Info: Calories: 539, Sodium: 684 mg, Dietary Fiber: 0.3 g, Fat: 11.6 g, Carbs: 15.1 g, Protein: 87.6 g.
---