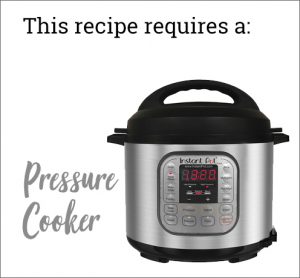 This is a rich and creamy version of beef stroganoff that won't upset your diet, unless you want it to! If diet is no concern, then serve this delicious stew over your favorite noodles. If you desire a gluten-free or keto-friendly version, then serve over cauliflower. Either way, this is our assistant Max's favorite dish so you're in for a treat!
Serves: 4
Prep Time: 5 Minutes
Cook Time: 30 Minutes
Ingredients:
1 tablespoon oil
½ onion
1 clove garlic
1 pound beef stew meat
1 ½ cups mushrooms
1 tablespoon Worcestershire sauce
1 teaspoon salt
1 teaspoon pepper
1/3 cup sour cream
¼ teaspoon xanthum gum
Directions:
Chop the onion and mince the garlic.
Turn the pot to sauté and sauté the onion and garlic for a few minutes.
Combine the rest of the ingredients except the sour cream and gum in the pot.
Seal the pot and cook on high pressure for 20 minutes.
Allow the pressure to release naturally, then turn the pot back to sauté.
Stir in the sour cream and xanthan gum, shaking in a little at a time.
Eat by itself or over cauliflower for a low carb delight.
---
Nutritional Info: Calories: 303  sodium: 921 mg, Dietary Fiber: 7g Fat: 14.6g, Carbs: 10.6g, Protein: 36.6g.
---