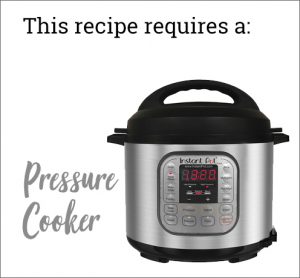 Perfectly spiced chicken that you can feel great about eating.
Serves: 3
Prep Time: 10 Minutes
Cook Time: 40 Minutes
Ingredients:
3 frozen chicken breasts
½ yellow onion
½ teaspoon pure liquid stevia
½ teaspoon ground ginger
2 tablespoons garlic powder
2 teaspoons curry powder
2 teaspoons ground cumin
¼ teaspoons ground cloves
1 tablespoon apple cider vinegar
1 tablespoon lemon juice
1 tablespoon arrowroot powder
Directions:
Dice the onion then add all of the ingredients except the arrowroot in the pot and mix around to coat the chicken.
Turn the pot to the meat/stew setting, seal and cook for 40 minutes.
Manually release the pressure, then transfer to a bowl and shred.
Stir the arrowroot powder into the pot to thicken the liquid, then transfer the chicken back to the pot and stir it into the sauce before serving.
---
Nutritional Info: Calories: 171  sodium: 82 mg, Dietary Fiber: 1.7g Fat: 2.2g, Carbs: 10.3g, Protein: 27.6g.
---