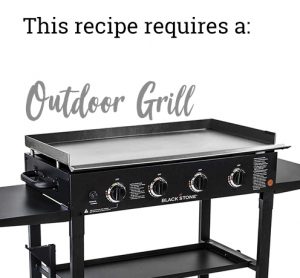 If you like watermelon and feta, you'll love this watermelon grilled with a creamy twist! The perfect after school or work snack – this recipe doesn't have to be served as dessert. You can enjoy it anytime of the day.
Servings: 6
Prep time: 5 minutes
Cook time: 10 minutes
Ingredients:
1 cup plain Greek yogurt
2 tablespoons freshly squeezed lemon juice
1 tablespoon white wine vinegar
1 teaspoon coarsely chopped thyme
1 tablespoon extra-virgin olive oil, plus more for drizzling
Twelve 3-inch-long triangles of seedless red watermelon, about 1 inch thick
Sea salt, for seasoning
1/4 cup small mint leaves
Honey, for drizzling
Directions:
Preheat griddle to high heat.
Combine yogurt, lemon juice, vinegar, thyme and the 1 tablespoon of olive oil in a small mixing bowl.
Drizzle the watermelon triangles with olive oil and season with salt.
Grill over high heat until charred, about 1 minute per side; transfer to plates.
Top the watermelon with the yogurt sauce and season with black pepper.
Garnish with mint and honey drizzle to serve.
---
Nutritional Info: Calories: 126, Sodium: 97 mg, Dietary Fiber:1.3g Fat:2.7g, Carbs: 22.8g Protein:5. 3g
---