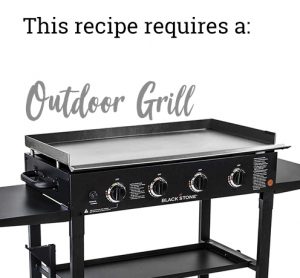 Kick things up a notch on your Blackstone Outdoor Griddle Station with this spicy recipe. These yummy pork chops pair perfectly with yellow rice, black beans, and your favorite salad.
Servings: 4
Prep time: 30 minutes
Cook time: 13 minutes
Ingredients:
4 ½-inch-thick bone-in pork chops
3 tablespoons olive oil, plus more for grill
Kosher salt and freshly ground black pepper
For the marinade:
1 habanero chile, seeded, chopped fine
2 garlic cloves, minced
½ cup fresh orange juice
2 tablespoons brown sugar
1 tablespoon apple cider vinegar
Directions:
Combine marinade ingredients in a large sealable plastic bag.
Pierce pork chops all over with a fork and add to bag, seal, and turn to coat.
Marinate at room temperature, turning occasionally, for 30 minutes.
Prepare grill for medium-high heat.
Brush with oil.
Remove pork chops from marinade and pat dry.
Grill for 8 minutes, turning occasionally, until charred and cooked through.
Transfer to a plate and let rest 5 minutes.
Serve with your favorite sides.
---
Nutritional Info: Calories: 490 Sodium: 171 mg, Dietary Fiber: 1.1g, Fat: 39.2g, Carbs: 10.9g Protein: 23.3g
---