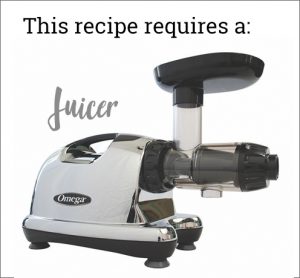 This juice is a great way to get your kids to eat their vegetables without them knowing it. Beets have a wide spectrum of vitamins, minerals, and phytonutrients. Spinach is packed with calcium and iron. The pineapple and apple give this a sweet taste kids love, while providing vitamin C and healthy pectin.
Servings: 1
Prep Time: 10 Minutes
Ingredients:
1 small beetroot
2 apples
1/4 small pineapple
1 stick of celery
1 small handful spinach
1-inch slice cucumber
Directions:
Cut up the pineapple and beet. Slice the apples, core them, and remove the seeds.
Juice the spinach on low speed, and then the rest of the ingredients on high speed.
---
Nutritional Info: Calories: 106, Sodium: 73 mg, Dietary Fiber: 5.5 g, Total Fat: 0.6 g | Total Carbs: 25.7 g, Protein: 3.2 g.
---