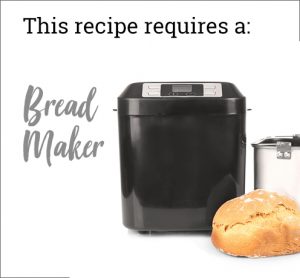 Bagels are a delicious way to enjoy bread for breakfast and brunch! You can top these yummy bagels with your favorite, traditional bagel toppings like cream cheese, butter, fruit spread, or even peanut butter.
Servings: 9
Prep time: 25 minutes
Cook time: 1 hour
Ingredients:
1 cup warm water
1-1/2 teaspoons salt
2 tablespoons sugar
3 cups bread flour
2-1/4 teaspoons active dry yeast
3 quarts boiling water
3 tablespoons white sugar
1 tablespoon cornmeal
1 egg white
Flour, for surface
Directions:
Place warm water, salt, sugar, flour and yeast in the bread machine pan in the order Oster indicates.
Select Dough cycle and press Start.
When Dough cycle is complete, take out pan and let dough rest on a lightly floured surface. Bring 3 quarts of water to a boil in a saucepan. Stir in 3 tablespoons of sugar.
Cut dough into 9 equal pieces and roll each piece into a small ball.
Flatten each ball with the palm of your hand. Poke a hole in the middle of each using your thumb. Twirl the dough on your finger to make the hole bigger, while evening out the dough around the hole.
Sprinkle an ungreased baking sheet with 1 teaspoon cornmeal. Place the bagel on the baking sheet and repeat until all bagels are formed.
Cover the shaped bagels with a clean kitchen towel and let rise for 10 minutes.
Preheat an oven to 375°F.
Carefully transfer the bagels, one by one, to the boiling water. Boil for 1 minute, turning halfway.
Drain on a clean towel. Arrange boiled bagels on the baking sheet.
Glaze the tops with egg white and sprinkle any toppings you desire.
Bake for 20 to 25 minutes until golden brown.
Let cool on a cooling rack before serving.
---
Nutritional Info: Calories: 185, Sodium: 394 mg, Dietary Fiber: 1.4 g, Fat: 0.5 g, Carbs: 39.7 g, Protein: 5.2 g.
---