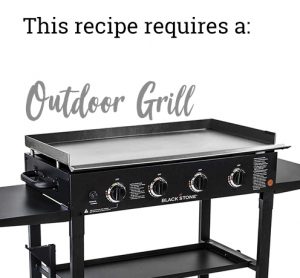 When you are craving a basic, juicy steak with no frills – this is the recipe to try our on you Blackstone Outdoor Griddle Station. Simple and succulent, this steak is for those who love bare bones seasoning without sacrificing flavor.
Servings 1
Prep time: 45 minutes
Cook time: 8 minutes
Ingredients:
1 (8 ounce) NY strip steak
Olive oil
Sea salt
Fresh ground black pepper
Directions:
Remove the steak from the refrigerator and let it come to room temperature, about 30 to 45 minutes.
Preheat griddle to medium-high heat and brush with olive oil.
Season the steak on all sides with salt and pepper.
Cook steak about 4 to 5 minutes.
Flip and cook about 4 minutes more for medium rare steak; between 125°F and 130°F on a meat thermometer.
Transfer the steak to a plate and let it rest for 5 minutes before serving.
---
Nutritional Info: Calories:1560, Sodium: 8468 mg, Dietary Fiber: 0.g, Fat: 86g, Carbs: 0.1g Protein: 184g
---