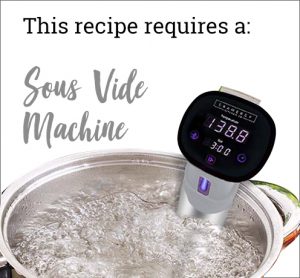 The perfect after dinner dessert, lavender laced sweet peaches will surely calm the senses after a lovely evening.
Servings: 4
Prep time: 10 minutes
Cook time: 20 minutes
Ingredients
2 peaches, halved and pitted
1 tablespoon dried lavender
¼ cup water
¼ cup honey
Plain yogurt, for serving
Directions
Preheat water to 185℉ in your Everie.
Add the peaches to a small 1 quart cooking pouch.
Sprinkle in the lavender and pour in the water and honey.
Remove the air and zip the seal.
Submerge the pouch in the water and cook for 20 minutes.
Remove from the water bath and add to an ice water bath and refrigerate for one hour.
Spoon the peaches into a bowl.
Sieve the poaching liquid into each bowl and discard the lavender buds.
Serve with a dollop of plain yogurt.
---
Nutritional Info: Calories: 143 Sodium: 6 mg, Dietary Fiber: 1.8g, Fat: 3.7g, Carbs: 28g, Protein: 1.7g
---