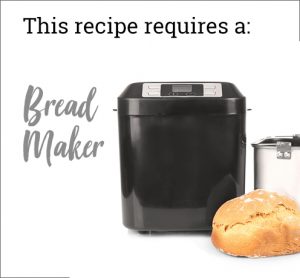 A delicious, hearty loaf – this bread is great served on its own or as the base of any sandwich. Of course, you can also enjoy it with cheese and wine or your favorite soups and salads for a special treat.
Servings: 4 – 6
Prep time: 10 minutes
Cook time: 3 hours
Ingredients:
1 cup, plus 3 tablespoons water
1 tablespoon extra-virgin olive oil
1 teaspoon salt
2 teaspoons fresh rosemary, chopped
3 cups bread flour
1-1/2 teaspoons instant yeast
For the topping:
3 tablespoons olive oil
Coarse salt
Directions:
Add water, oil, salt, rosemary, flour and yeast to bread maker pan in the order suggested by Oster.
Select Dough cycle and press Start.
Transfer finished dough to a floured surface.
Cover and let rest for 5 minutes.
Form dough into a smooth ball and roll into a 12 inch round.
Place on a 12 inch pizza pan that has been lightly greased with olive oil. Poke dough randomly with fingertips to form dimples. Brush top with olive oil and sprinkle with salt to taste.
Let rise uncovered in warm, draft-free space; about 30 minutes.
Bake at 425°F for 18 to 22 minutes or until done.
Serve warm.
---
Nutritional Info: Calories: 312, Sodium: 390 mg, Dietary Fiber: 2.1 g, Fat: 10.1 g, Carbs: 48.3 g, Protein: 6.9 g.
---