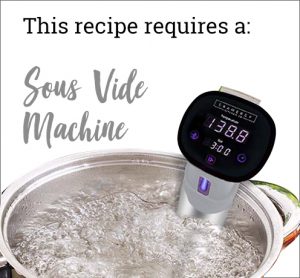 Fluffy and decadent this breakfast bread is best topped with powdered sugar and maple syrup.
Servings: 4
Prep time: 5 minutes
Cook time: 1 hour
Ingredients
4 slices French bread
2 eggs
1/2 cup heavy cream
1 teaspoon vanilla extract
1 teaspoon cinnamon
2 teaspoons vegetable oil or shortening
Powdered sugar, for serving
Maple syrup, for serving
Directions
Preheat sous vide to 147℉.
Whisk together eggs, cream, vanilla, and cinnamon in a bowl.
Dredge bread slices in the cream mixture.
Add bread to a vacuum bag and seal.
Cook for 1 hour.
Add oil to a large frying pan and heat to medium-high.
Remove French toast from sous vide and brown on both sides for 2 minutes.
Serve with powdered sugar and syrup.
---
Nutritional Info: Calories: 221 Sodium: 245 mg, Dietary Fiber: 1.1g, Fat: 10.6g, Carbs: 24.6g, Protein: 6.9g
---